Top 10 Oppressions as expressed by the First Century Prophets
10. Not paying temporary laborers at the end of the day67

9. Treating the wealthy as more important than the poor among God's people68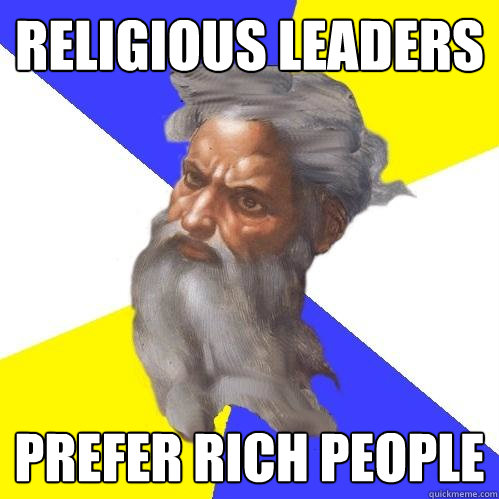 8. Investing wealth, saving for the future instead of giving it to the poor69

7. Ignoring the poor in need you see70

6. Keeping our excess when others are in need71


5. Denying shelter to the homeless


4. Denying food to the hungry


3. Denying healing to the sick

2. Denying companionship to the isolated72

1. Treating the poor as outcasts, unworthy of equality73
Most of these oppressions are sins of greed. In our society today, "greed is good" and selfishness provides benefit. However, in the community of Jesus, greed is the worst of all evils, miserliness sends you to hell faster than almost any other sin. Clearly, the majority of the church today has a different perspective than the first century church.
Many people talk about the harshness of the law and how different the New Testament is. But in the area of giving to the poor, meeting the needs of the needy, there is a perfect continuity. It is the responsibility of the wealthy to share with the needy. Whether it be for the reason of the deliverance from oppression one has experienced, or because of love for another in need, the result is the same.
Notes
67. James 5:1-5
68. James 2:1-9
69. Luke 12:16-33
70. Luke 16:19-25 ; I John 3:16-17
71. I Corinthians 8:13-15; Luke 3:11
72. Matthew 25:31-46. I didn't include the prison statement, because visiting people in prison meant something different in the first century than today. In the first century, family and friends had to supply food and water for the imprisoned, and so visiting wasn't just a social connection, but a matter of survival. This is not to say that prison ministry isn't important—it is essential. But it would also mean visiting those in nursing homes and those who cannot leave their homes for a variety of reasons.
73. Romans 12:16